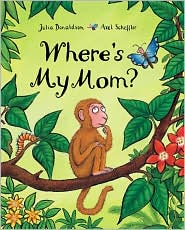 illustrated by Axel Scheffler
A monkey gets separated from his mother and a patient butterfly decides to help. She follows the clues he gives her about his mother, and presents the monkey with different animals based on his clues.
"How big is she?"
"She's big!" said the monkey. "Bigger than me."
The butterfly brings the monkey to an elephant, who is indeed, bigger than the monkey. The monkey explains that is not his mother and points out various differences between the elephant and his mother. He explains that his mother's tail coils around trees. The butterfly takes him to a snake next, and so on.
My favorite part of the story is when the butterfly takes the monkey to a bat. The monkey says the bat is too little, so the butterfly takes the frustrated monkey back to the elephant. Have you noticed I enjoy a bit of humor in my children's books?
The monkey learns that the reason why the butterfly has such a hard time finding his mother is because the butterfly doesn't know the monkey's mother looks just like him. Butterflies look very different from their young.
Easy Enrichment
: I read one other book from this author,
The Snail and the Whale
. It followed the same format of a small creature and a large one having an adventure together with a rhyming story. I was not a fan of the other story. It just didn't work for me...at all. This one, although not an all-time favorite, is still highly enjoyable to read because it can be read interactively. Younger children can identify the animal the butterfly leads the monkey to, and older pre-readers can fill in the rhyming words:
"She'd rather eat fruit than swallow a fly, And she lives in the treetops, way up _______."
My children also enjoyed trying to guess what animal the butterfly would take the monkey to next.
This would be an excellent story to kick start learning about the life cycle of a butterfly. Not a good one for the anatomy of a butterfly. I have no idea why the butterfly has a human head. Weird.
Buy It:
Available in hardcover from
Barnes and Noble
for $16.99. Find it for $11.55 from
Amazon
.