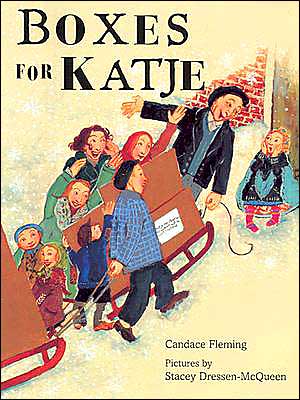 by Candace Fleming

illustated by Stacey Dressen-McQueen
Based on the author's true family story.  Times were hard in 1945 after the war.  There was little left in the Dutch town of Olst.  They went without many "luxuries" we would now call staples.  
One morning a young Dutch girl named Katje received a box from America from a small girl she doesn't even know.  It was part of a program through the Children's Aid Society to bring hard to find things to the children in Holland.  It was just a small box that contained a bar of soap, a pair of socks and a piece of chocolate.  All of the items were very much needed and Katje was kind to share with others in her neighborhood.  
Katje wrote back to thank the American girl, Rosie, for her gift, and admitted that sugar was rarely ever seen in Holland.  Weeks passed, and soon another package arrived for Katje from Rosie.  As their correspondence increased, so did the interest of the people in Rosie's American hometown.  What started out as just a tiny box mailed by a little girl, turned into a community effort to save Katje's town that winter.
This was an uplifting book that focuses much more on the happiness when Katje and her friends received the gifts, rather than the sadness of their need.
Anyone can make a difference.
image via barnesandnoble.com