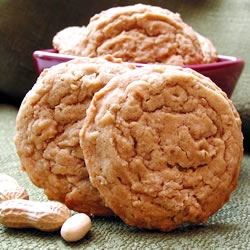 I have a thing for peanut butter. Its a diet breaker. My house can be free of all sugary treats but if I have peanut butter I will manage to make a treat with it (honey nut cheerios, chocolate chips and peanut butter mmmmm). I like peanut butter cookies right out of the oven, but within a few minutes they are flat and crunchy. Just recently I tried a recipe for Oatmeal Peanut Butter Cookies. The oatmeal keeps the cookies thick and chewy- perfect!
Feel free to use crunchy or smooth peanut butter or add chocolate or white chocolate chips.
1 cup butter, softened
1 cup packed brown sugar
3/4 cup white sugar
1 cup peanut butter
2 eggs
1 1/2 cups all-purpose flour
2 teaspoons baking soda
1 teaspoon salt
1 cup quick-cooking oats
Preheat oven to 350 degrees.
In a large bowl, cream together butter, both sugars, and peanut butter until smooth. Beat in the eggs until well blended. Combine the flour, baking soda, and salt; stir into the creamed mixture. Mix in the oats until just combined. Pick up a 2-3 tsp of dough and roll in your hands into a ball. Drop onto ungreased cookie sheets.
Bake for 10 to 15 minutes. It's hard to tell when they are done since the dough is already brown. I think they are done when the cookies are crackled on the top and in between the dough will have tiny bubbles. Don't over-bake! Cool and store in a ziplock bag with the air sucked out of it.