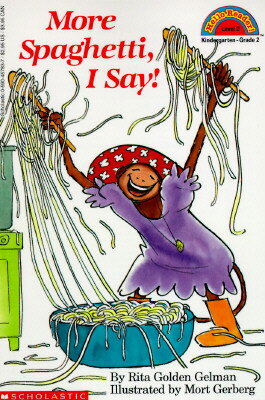 illustrated by Mort Gerberg
This is supposed to be a leveled reader, but it's one of the books we have worn the cover off of with so many readings. A great book about Minnie monkey, who is so committed to her love of spaghetti, she has found a way to incorporate it into everything she does....skiing, biking, and so on! Unfortunately, she takes a good thing too far and gets sick from eating too much spaghetti. Great ending, and one that your little pre-reader will be proud to take over reading someday soon!
images via mortgerbergbooks.com
Enrichment Idea:
I just realized my last few books have involved food somehow. I usually write these reviews late at night when the jodos are in bed, and a bowl of spaghetti actually sounds really good right now. I love letting kids do messy, fun things. Make a pile of spaghetti just to play with. Squish it, pile it, talk about what it would feel like to stand on a mountain of spaghetti. This might be a good time to talk about how your body feels when it is full.
If you're careful with hand washing, you could probably make a cold spaghetti dish to accompany dinner.
Another Idea:
Watch Freddy's face throughout the story. He is very expressive of his feelings when he's excited, when Minnie says she won't play with him, and in other ways. A good book to identify how what we say makes people feel good/bad.
Don't Buy It!!!
Get it free!!!
Scholastic and Barilla Pasta have teamed to give you a copy of "More Spaghetti, I Say" when you send in 2 UPCs from Barilla Piccolini pasta packages. Only catch is it has to be the
Piccolini pasta
--I guess they are mini-versions of adult pasta. The printable coupon available on that link is good for $1 off when you buy 3 boxes. This book is available in Spanish on
Buy.com
Want another great book about pasta?
Strega Nona
by Tomie dePaola is another fantastic must-read book. I couldn't leave it out!!
image via classweb.dctc.mnscu.edu