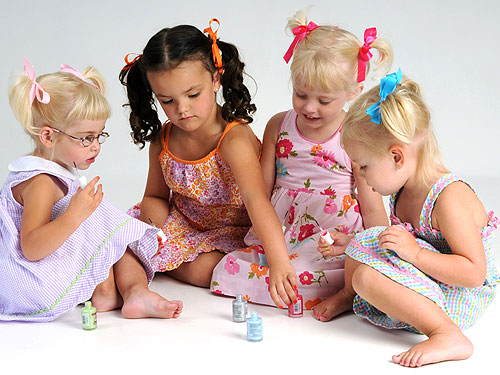 Does this picture give anyone else a heart attack? 
What about the chemicals? 
The spills? 
Calm down, it's
Piggy Paint
!  Created after Melanie Hurley, mom founder, watched her "kid" nail polishes
eat through a foam plate
(!!!).  Right then she knew something safer had to be created.  Piggy Paint's slogan: "Natural as Mud."  It's odorless, non-toxic and kid friendly.  Safe for use on foam plates, and far more importantly, little fingernails.  
My favorite things about it:

1)
Extremely Low Odor!!!
 Dad will be none-the-wiser if us girls are having a little painting party right under his nose--literally! 
2)
Non-toxic!!
 I worry when I see my little lady chewing the polish off...and we know they all do it.  I discourage her from chewing her fingers just the same, but at least I don't imagine her
 IQ going down every time she begs me to paint her nails.
3)
Kid Friendly!!
 She's old enough to paint nails on her own, but that doesn't mean she's old enough not to spill it (we're all prone to those moments).  Although their website doesn't tout Piggy Paint's ability to clean up accidents with fewer tears, customers of Piggy Paint praise them for not ruining their hardwood floors and carpets.  Regular polish cures immediately, whereas Piggy Paint takes a little more time (but still ready to go in just 2 min. with a blow drier!), making accidents less traumatic and less noticeable.  
Add to the above: completely biodegradeable, hypo-allergenic, environmentally safe, and we've covered our bases!   See the non-toxic
ingredients
on their site.
Bonus:  Even Piggy Paint's nailpolish remover is odor free.  I mean, I put my nose to the bottle and wondered if it really wasn't just water. :)  Polish remover can be even more toxic smelling than the polish!  Not here.  But the best part is if you remove your Piggy Paints polish within 1-4 days, you can do so with just plain rubbing alchohol!  

As for the durability of Piggy Paints: when you follow the directions, it performs just as well, if not better than other kid polish we've tried.  Uncle Logan's toenails got a coat of Piggy Paint with the assurance that it would probably wear off quickly at the water park on our vacation (as all nail polish does).  However, the end of the day came with those purple toes still looking great!  

Who wants Piggy Paint on their littlest Piggies (even if it's your very own piggies)??!!  One Citrus reader will get a Piggy Paint Gift Pack!!  Just take a look
here
and then comment below about the gift pack you'd love to own.  Enter before midnight on Tuesday, April 14th for your chance to be the lucky winner!  Thanks
Piggy Paint
!  
Can't wait to win?  Have a birthday party this would be the perfect favors for?  You can still win with a discount on Piggy Paint! For a limited time

all

our readers can get 20% off your order when you enter the code "CitrusList"!!  Plus, domestic shipping over $25 ships free!!